Well optimized website, the best tool for B2B marketing and getting your message through
Modern websites are a cost-effective and permanent advertising space – it is a showcase for the company's services and products. A website designed according to business goals facilitates the company's growth and is a place where current and future customers can find information about the services or products offered by the company. Today it is self-evident that a high-quality website increases company's brand value, sales and credibility.
Increase brand value
Convince your customers and increase brand value with a better user experience and web presence. A high-quality website speaks for the operator and improves the shopping experience.
Reach potential customers
Appear at the top of search engine results with the keywords your customers use to search for the products or services you offer. A high-quality website effectively and convincingly tells potential customers what you have to offer.
Bring added value to your partners
Online services ease the everyday life of your company as well as that of your customers. Bring added value to your online partners and deepen cooperation.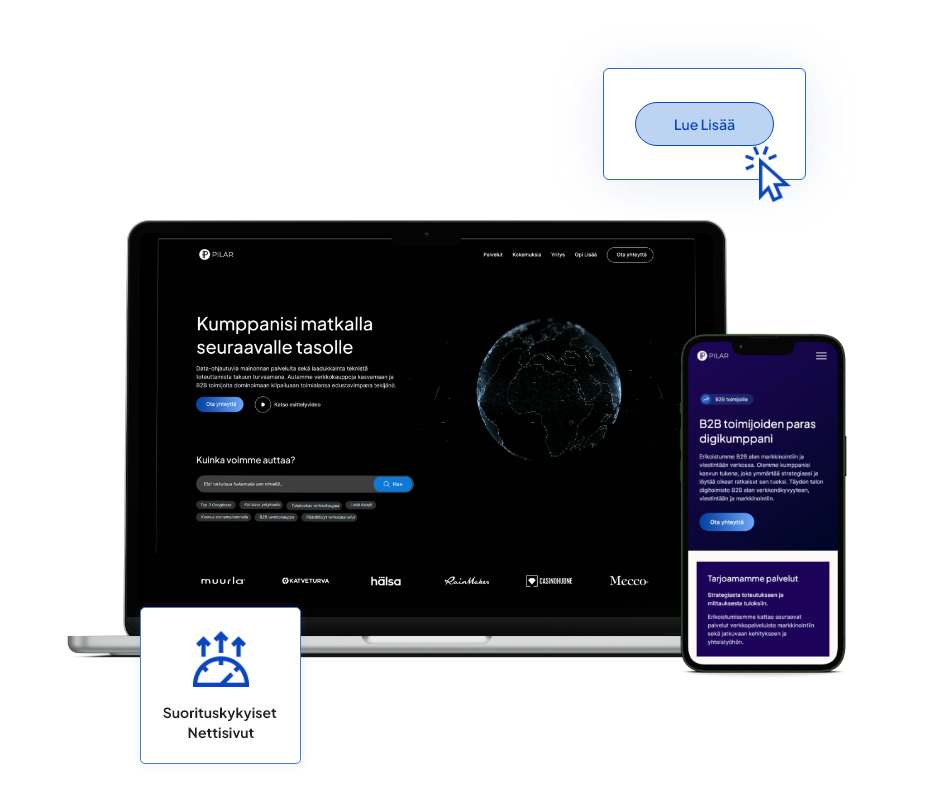 The implementation workflow of a successful website project
1. Strategy and objectives
We set clear business-supporting goals, which are then used to create a plan for the project implementation.
2. Content and functionality
We create effective website content together, basing the process on various analyses. The website's functionality and technical requirements are agreed and decided.
3. Visual appearance and implementation
We will create visual look for the page and a testable user interface. When we are satisfied both with the look and the user experience, we move on to the programming itself.
4. Tracking and constant improvement
Once the site is programmed, we set up modern metrics for analytics and tracking results. We make sure that the set goals for the site are met. Then we make a further plan for continuous development and maintenance of the site.
Services that support website success
Customized solutions
Our experienced programming team implements customized solutions from various API integrations to our own add-ons and solutions.
Intranet & Extranet
We implement customized intranet & extranet environments for your company's needs.
Search engine optimization
We are the only service provider in Finland that guarantees top results for its comprehensive search engine optimization services.
Maintenance and hosting
We offer website maintenance and Finnish website-optimized cloud servers for website hosting.